Looking to start your own brand of liquid chalk with a high quality product? We've got you covered. With no minimum order quantity and free labels applied on each bottle for you, there's no better partner than Grip Chalks. We offer affordable wholesale pricing that varies based on what you're looking for so reach out and let's get started!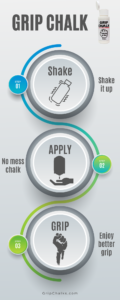 Check out what users have to say:
"Amazing chalk!! Did its job, very satisfied. Highly recommend." -Alex S.
"One application holds well on my hands for several sets, then washes off easily." -John L.